Making A Business Website Successful...
My Secret, My Success Story
Making a business website that's profitable and successful is very do-able, even if you've got no previous experience whatsoever. I'm
living proof of this and would like to share my secret and story with you.
First off I'll give you some facts about me and this website:
I started this site with no previous website building experience at all
I work full time, so have only been able to dedicate a few hours a week to building the website
The site is now (August 2011) just over 3 years old and is receiving over 2,500 visitors per day (nearly 80,000 visitors per month) - compared to an "average" small business site which typically gets less than 50 visitors per day
My visitors in the last month have come from 141 different countries
The income from my website pays my mortgage
My visitor numbers and income are increasing every month
I built this site using SBI, which provided everything I needed to make it successful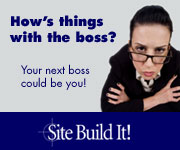 In 2006 I thought it would be a good idea to create a website about one of the major loves of my life - cats.
My financial goal was to build something that would be long-term and sustainable so it would give me a good retirement income...
...Unfortunately I've not been very clever or sensible with What will you retire to? saving for a pension and I was worried about an impoverished old age - albeit my retirement is still over 20 years away!
My personal goal was to help and share my feline knowledge and experience with other cat lovers.




I'd got no previous experience of building websites.
I then made the exact same mistake that I'm sure millions of other people have made when making a business website (or trying to) – spent several hundred £ over about 18 months paying for useless web hosting services, hopeless e-books and worthless advice, not to mention wasting several hundred hair-ripping-out hours in the process.


A Brief Diversion (Please Bear With Me - It's Worth It)
The Online Business Minefield
Making a business website that's profitable and successful is something that many people would like to do. With all the global financial uncertainties and so many people hating the conditions under which they're now expected to work, it's not surprising that millions are interested in making money online.
So, they type "start an online business" (for example) into a search engine and loads of adverts come up - do any of these look familiar? OK I'm exaggerating a bit here, but you get the picture :-)


"how to create a business website in less than an hour that will earn mega bucks - guaranteed!"
"how I went from totally broke to cyber multi-millionaire in 6 months"
"I earn $10,000 a day doing 10 minutes work on my computer and YOU can do the same!"
Unfortunately, none of the above is true; if it was, we'd all be millionaires by now and the credit crunch would never have happened.
If you've been unfortunate enough to have paid for any of these types of products and "services" (I use the term loosely), you'll know how annoying / frustrating / upsetting it is when it becomes apparent that they are not what they claimed to be.
So how does someone start making a business website that's successful? How can you possibly decide which products and services are good?
Back to My Story...
In 2008, when I was on the verge of giving up completely, I came across Solo Build It (SBI).
I could go on for hours about the virtues of SBI but you'd probably get bored with my ramblings and click away – and this is not what I want you to do if you're thinking of making a business website! So I'll keep it brief…
You CAN build a VERY successful online business with SBI, even if you have NO previous web building experience (and even if your computer skills are very basic) - BUT it will take time, effort and work, so you do need the motivation to keep at it.
The main motivation for most SBI site owners is that they're writing about a topic they know lots about and they love. As their website gets more and more successful, they can see the elusive road to financial freedom and security suddenly becoming much less elusive and actually achievable, and this spurs them on even more. This has definitely been my experience.


SBI isn't - and doesn't claim to be - a Get Rich Quick solution. But it REALLY WORKS!
The hardest part of making a business website is at the beginning, when you seem to be putting in lots of effort for small return. But once the website takes off and the traffic starts growing, your efforts can reduce and your initial hard work will start to pay off handsomely.
I've always worked on my website part time (I've had a full time job right the way through) so I've never been able to put more than a few hours a week into it – and I've had a couple of periods lasting a few months where I've not worked on it at all.
I have no special skills or experience with computers.
I'm no Webmaster!
If I can build a successful website, so can you!!!
SBI provides ALL the tools needed.
My website hasn't made me a millionaire (yet!), it's not paying for that cottage by the sea I've always wanted (yet) but it's currently paying my mortgage with a bit left over – and my income from it is growing every month.
Many SBIers earn an excellent full-time income from their sites. Anyone who has enough motivation and determination to succeed can succeed with SBI, as it provides all the tools to enable that to happen.


What's even better about SBI is that you can try it for 90 days risk free - so you've nothing to lose by giving it a go!
And that risk-free trial could be the start of a very positive lifestyle change that you would never have previously thought possible...


The First Day of the Rest of Your Life
If you're interested in making a business website that's profitable, sustainable and successful I would 100% recommend SBI. The video below is less than 2½ minutes in length and is an introduction to SBI. You can then, if you like, watch a longer video that explains it in more detail. If you're thinking of starting a business online please make the time to watch this video – it could, business and lifestyle-wise, be the best 2 minutes and 28 seconds you've ever spent...

Go from making a business website page to Cat Behavior Explained home page